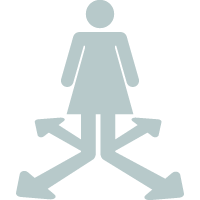 You missed your period. The test you bought from the drugstore says "positive," and now you're frantically seeking options regarding an unplanned pregnancy. At Mosaic, we strive to inform you about your options and feel it's important for you to know all the information before you make a decision. You may be considering the Abortion Pill, or other methods of abortion.
What is the Abortion Pill? The Abortion Pill is a non-surgical medical abortion that consists of two medications – mifepristone and misoprostol, or methotrexate. The Abortion Pill is not the same as the Plan B pill or morning after pill.
How does the Abortion Pill work? Mifepristone is taken first, followed by either misoprostol or methotrexate a few days later. Mifepristone stops the production of progesterone needed for the fetus to grow. Misoprostol or methotrexate causes the uterus to contract and expel all the fetal tissue from the pregnancy. The Abortion Pill procedure may be offered up to 9 weeks.
Sounds pretty simple doesn't it? However, this method is not as easy as it seems. There are risks and side effects, such as a failed abortion, or severe prolonged bleeding and pain.
If you missed your period, or recently had a positive pregnancy test for an unplanned pregnancy, stop and take a deep breath. Remember, collect your facts first and be informed about all your options. Give us a call and lets start a conversation.
Our nurses at Mosaic offer pregnancy testing, STI testing and treatment, and pregnancy confirmation through limited obstetric ultrasound. We'll discuss all your options privately in a friendly, confidential and non-judgmental environment. All our services are FREE. No insurance is needed. We're here to answer your questions, listen to your concerns, and inform you about all the risks and options.
Reference: Virginia Department of Health. ABORTION Making An Informed Decision.