Make your Miles MATTER.
Close to 17,000 abortions occur in the state of Virginia, over 10,000 of those being performed in northern Virginia. While that number continues to decrease, it's still too many. Each mile walked or run during the Mosaic Miles for Life event will help support women, encouraging them to carry their unborn children with the support and services of Mosaic Virginia.
Register for the 2022 Mosaic Miles for Life
Mosaic Virginia's Miles for Life is a family-friendly fun event to raise awareness for the sanctity of human life in our community and to raise funds to support Mosaic Virginia's mission to provide hope and help to those unprepared for pregnancy.
PROCEEDS:
Research shows that when women are supported, in a time of unplanned pregnancy and crisis and have a safe, confidential place to go, they think through their situation before making a rash decision they'll regret. Your proceeds and donations will benefit Mosaic Virginia, allowing us to continue to offer women free support and services, and their babies a chance at life. Make your miles MATTER. Save lives with each step.
Mosaic is a 501 c-3 and receives the majority of our funding from private donors and local churches. To keep offering these much-needed services to our community, we must continue to raise funds, and raise awareness. That is where you come in. Join us as we make Miles for Life. Put together a team of Life-Leaders and rally across our community to raise awareness of who Mosaic is and why we're here!
Register now to the Mosaic Miles for Life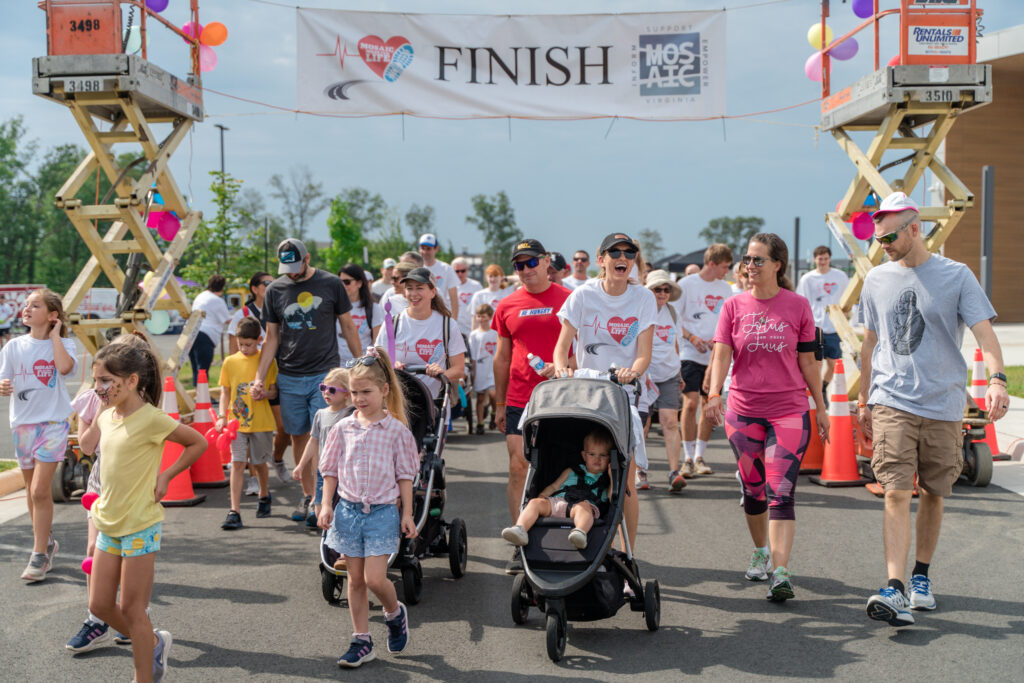 WHEN: Saturday, April 30th, 2022 9:00AM – 12PM
WHAT: Mosaic Miles for Life family walk/fun run and festival
WHERE: Christian Fellowship Church, 44505 Atwater Dr, Ashburn, VA 20147
REGISTRATION FEES: There is no registration fee, however we encourage you to register in advance to get a FREE t-shirt! T-shirts will be FREE to all participants on a first come, first serve basis. Please register below.
AWARDS: Will be given to the top fundraiser and top fundraising team.
PRIZES: Prizes awarded for fundraisers at the $500 and $1,000 levels.
T-SHIRT PICK UP: Friday, April 29, from noon-4pm at Mosaic Virginia office or the morning of the event when you check in at the registration tent.
Support Life: Walk. Run. Fundraise. Donate. Sponsor. 
Unable to join us?
You can still support us!
Your donation can make an impact by helping Mosaic Virginia provide one of the services listed below:
Provides a life-saving ultrasound and parenting curriculum to parents in need: $750
Parenting curriculum to a new parents: $500
Provides a life-saving ultrasound: $350
Provides diapers and formula to a client in need: $100
Provides a free pregnancy test: $50
ABOUT US
For over 27 years, Mosaic has been serving Loudoun County and our surrounding areas with FREE medical resources and support. Free pregnancy testing and limited ultrasounds, free STI testing and treatment, free abortion counseling and post-abortion counseling, free sexual integrity education and free parenting classes. Mosaic believes in informing, educating and supporting each person that walks through our doors. We believe in intervention, prevention and the sanctity of human life. We believe in Jesus Christ and sharing the gospel every chance that we get.
Through the provision of God's people and the community at large, women may face the future with hope and plan constructively for themselves and their babies. Mosaic is committed to continue creating awareness within the local community of the needs of pregnant women and of the fact that abortion only compounds human need rather than resolving it.
Thank you to our 2022 Miles for Life Sponsors!